Why Businesses Hire Recruitment Agencies To Find Employees For Them
Ever wondered why businesses hire recruitment agencies? This post will answer that question.
Table of Contents
Lots of people are not really sure why recruitment agencies exist, or what they do exactly. Or what benefits come from their services.
In this post all your questions will be answered.
What is a Recruitment Agency?
To put it simply, a recruitment agency is a middleman between employers and employees. Recruitment agencies are hired by businesses to find them the best candidates for the roles they need filled. Businesses outsource all the tasks involved with recruitment.
The Cambridge Dictionary defines a recruitment agency as;
"A business that is paid to find suitable workers for other companies and organizations"
Agencies are hired to find both permanent and temporary employment. It depends on the nature of the business and its industry.
With turnover rate continually rising, recruitment agencies are always in demand.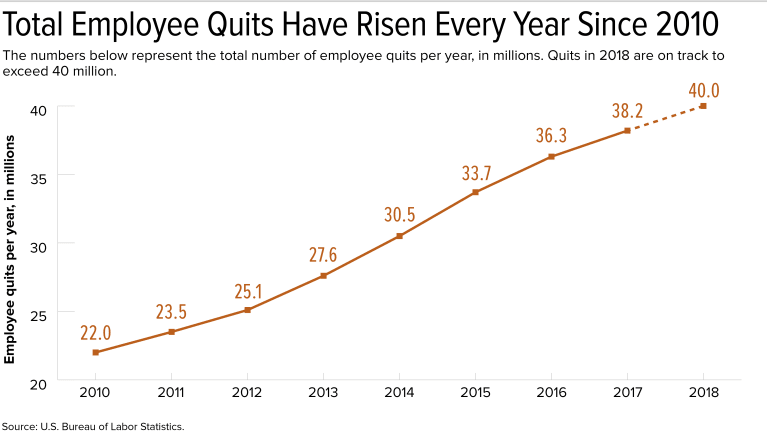 Even recruitment agencies themselves have a high staff turnover.
Recruitment Agency vs. Employment Agency
A recruitment agency can be both government funded public or private. Though generally employment agencies deal with the public sector and recruitment agencies with private.
Employment agencies are organizations that help jobseekers (the employee) find work.
Recruitment agencies help businesses (the employer) find employees.
That's the difference.
What Does a Recruitment Agency Do?
A recruitment agency finds the best candidates available for the businesses that hire them. This is a much more complicated task than it seems. Which is why the recruitment industry exists in the first place.
To understand what it is, specifically, that recruitment agencies do, we must understand the recruitment cycle concept.
The Recruitment Cycle
The recruitment cycle represents the entire process of recruiting, broken down into key phases. Everything that a recruiter does is detailed in this cycle. Let's look at each specific phase and break it down.
Identify Vacancy And Job Requirements
During this initial stage, recruiters will identify exactly what businesses hire them for. What the actual jobs are, what they require. This will give them an idea of the types of candidates to recruit.
To be more specific, here are some questions recruiters will ask to gain the right information they need.
Why Is A New Employee Needed?
The recruitment agency needs to know the exact reason why a new employee is needed. What is the purpose of the role or roles to be filled. From that information, recruiters can begin to form a picture of an ideal candidate.
What Responsibilities/Duties Does The Job Require?
Knowing what the specific responsibilities and duties that the job asks of the candidate. This is vital information for recruiters.
What Skills/Qualifications Does The Candidate Need?
Certain jobs require a specific level of education, or even in some cases a particular license. Sometimes a skillset that is not related to education or a qualification, rather work experience.
This is a major screening factor that can help recruitment agencies cut down the candidate pool.
How Does This Job Fit Within The Whole Business?
What function does this position play in the bigger picture? Is it a marketing position that helps develop various advertising campaigns? Is it a managerial position? Sales? How does it factor into helping the business operate?
This is important for recruiters to know. The better they can understand the purpose of the job, the easier it is to find the right candidate.
Post Jobs/Source Candidates
Once recruiters have the job specifications and requirements, they can begin the outreach process. This phase of the recruitment cycle involves finding the right candidates.
Some strategies recruitment agencies use in this phase include;
Job boards can be general and more industry specific. Popular, general job boards such as Seek, CareerOne, etc.
These are a great place to find a large volume of candidates, but the quality is poor. You will definitely advertise the job opening no doubt. A lot of the CV's/Resumes sent will be low quality, generic, spammy and non-specific.
Dig through the dirt, and you can find diamonds in the rough.
Facebook groups is one strategy to find candidates on social media. LinkedIn by far is the best social media platform however. Although it does have an actual job board, traditionally LinkedIn has been about networking.
Using LinkedIn's social network, you can connect with the high quality candidates you are looking for.
Recruiters will need to present themselves well, as high quality candidates found on LinkedIn have standards. This is not a generic job board.
This includes more traditional advertising methods like newspapers, local newspapers, trade journals, newsletters. When utilized correctly, these can still be effective for finding candidates.
Though the upfront costs with uncertain results can be a problem. If you are confident the costs of press advertising are justified, then by all means.
Screen Resumes
Making sure the resumes you are being sent fit the requirements of the job is vital. Vetting the credibility of qualifications and past employment experience is vital as well. Checking referees for legitimacy, it's all essential to the recruiting process.
Conduct Screening Calls
A screening call is a pre-interview call that further thins out the herd. This is often a point where a resume is further scrutinized. Anyone can write a solid CV that fits job criteria. Recruiters will use the screening call to put it to the test.
Successful screening calls will shorten the list of candidates.
Typical screening call questions might include;
"Tell Me About Yourself"
"Describe Your Work History"
"What Are Your Salary Requirements"
"Why Are You Interested In This Job"
Conduct Interviews
At this point, recruitment agencies will have a strong shortlist of candidates that fit the job/s. This is the typical interview point of any job that needs hiring.
Typically businesses conduct interviews themselves.
In this instance, recruiters from an agency have been hired to do the interview. This is part of the recruitment process that has been outsourced to an agency.
There is really nothing unique or different about this part compared to typical interviews. Except that a recruitment agency is interviewing you, on behalf of the business who hired them.
Extend Job Offer
Once interviews have been conducted, the best candidate/s will be chosen. A contract will be drawn up. Then the job will be officially offered to the #1 choice.
This phase will involve a lot of necessary paperwork for the candidate. Paperwork such as;
Bank details
Tax forms
Wage payment
Onboard New Hire
The candidate has now been hired. All the necessary paperwork has been completed.
This last phase is crucial. It involves the concept of "onboarding". Here's a definition from the Collins dictionary.
"The induction and assimilation of a new employee into a company or organization"
There are many different ways and things you can do for a successful onboarding phase. Providing adequate training resources, and a friendly sociable environment is key.
This is what recruitment agency reedglobal's onboarding checklist looks like.
This concludes the entire recruitment cycle. This summarizes essentially everything recruiters and recruitment agencies do. Sometimes it will look different, depending on the business that hires them, and the jobs to be filled.
Why Do Businesses Hire Recruitment Agencies?
When you boil it down, there are 2 primary reasons why businesses hire recruitment agencies.
Finding the right employees is hard
Recruiting is time consuming
Businesses don't just want employees, they want good employees. Most of all, they want loyal employees.
Job-hopping is on the rise. Millennials change employment 3x as often as older generations. 
44% of CFO's are not likely to hire someone with a history of job-hopping.
Finding high quality employees that are loyal is tough. It takes time, and effort. It is not easy.
There are definitive benefits to using a recruitment agency. There are also downsides. Let's take a closer look.
PROS
The recruitment process is much longer and drawn out than most realize. Outsourcing your recruitment process to an agency will result in faster hiring. Agencies have streamlined step by step recruitment systems.
Higher Quality Candidates
Recruitment agencies specialize in finding the highest quality candidates. With large pools to source from, and stringent screening methods, finding the best fit is what they do best.
Not only are recruitment agencies specialists in recruiting, but they have industry specific recruitment knowledge. They know where to find the right candidates for any industry, and what qualities to look for.
CONS
Outsourcing your recruitment process is going to cost you more. Just like anything really, you can save a buck by doing it yourself. Though it's best to leave it to the experts, and time is more valuable than anything.
Although recruitment agencies can find the best candidate on paper, it's no guarantee. Office politics, culture, interpersonal skills. These are intangibles that recruitment agencies can't always ensure.
This is why a quality onboarding process is vital.
Lack of Employer Branding
When you outsource recruitment to an agency, you are giving them complete control. You trust in them to find you the best candidates possible. This is true.
However you lose employer branding and vision. There is a certain level of congruency when you hire people yourself. Recruitment agencies might not convey your mission statement or vision like you would.
How Are Recruitment Agencies Paid?
There are various different ways that recruitment agencies get paid by businesses. It depends on the service provided. It can be structured in different ways. This affects the way recruitment agencies are paid. Let's break it down.
Contingency Recruitment
Only get paid if the recruiter/recruitment agency successfully fill a position.
On Demand Recruitment
An adjustable level of recruitment with generally an hourly rate.
Retained/Executive Search
Upfront fee for assisting in finding a candidate for a position.
Success Case Study #1 – Bank of New York Mellon
The Bank of New York Mellon is a multinational banking and financial services holding company. They decided to hire recruitment company Robert Walters. Robert Walters is a recruiting firm that spans 5 continents, operating in 28 different countries.
BNY Mellon hired Robert Walters to help transition their base of operations from London to Manchester.
Robert Walters used their extensive recruitment database along with an effective strategic advertising outreach. These methods were used to source only the highest quality candidates. They also oversaw the interview process and all pre-employment screening.
Here are some of the results.
Recruited 200+ junior and senior management professionals
Pre-employment training/support provided
Successfully moved BNY Mellon from London to Manchester
Here's a quote from BNY Mellon's human resources department on hiring recruitment agency Robert Walters.
"Since 2005 we have used Robert Walters as one of our preferred suppliers. At present they are one of the few agencies that are providing the right calibre of candidate for all levels of our recruitment. We will not hesitate to use their services in the future."
Success Case Study #2 – Luxury Automaker (Hudson RPO)
A luxury automaker needed more qualified auto mechanics.
The auto manufacturer wanted to get more mechanics to sign up for their service technician education program. They provided high quality courses, but lacked enrollment numbers.
They decided to hire Hudson RPO to help them find more candidates.
Here are the results.
91% Class Fill Rate After 12 Months (31% Improvement)
98% Class Fill Rate After 18 Months (38% Improvement)
10,000+ Monthly Website Hits
Before they hired Hudson RPO, they only had a class fill rate of 60%. After 18 months with Hudson RPO the classes were essentially full.
How did recruitment agency Hudson RPO accomplish this? Here's a quote from them regarding the matter.
"To help drive enrollment, we developed a fresh website to attract and educate prospective students. The site pushes visitors to a user-friendly application system."
Some other things they did included;
Creative Advertising/Marketing Campaigns
Advertising and marketing campaigns with the intent to broaden the applicant pool. Hudson RPO ran sponsored ads on platforms like Google (Adwords), Facebook, Instagram and Indeed.
Developed, Launched and Run Private Job Board For The Automotive Industry
Created and run an industry specific job board to drive engagement and connect automotive dealers with students/employees. The job board includes student profiles and matches graduates with employment openings.
The strategy might seem like something a marketing agency would deal with, but recruiting is a vast niche. It comprises of anything and everything that possibly relates to the recruitment process. It is why businesses hire recruitment agencies.
In this case study, it clearly worked.
Success Case Study #3 – Bloomsbury Publishing
Bloomsbury Publishing is a major publishing house that has locations in global cities like London, Sydney, New York and Delhi. They are the publishing company behind the immensely successful Harry Potter series.
Bloomsbury Publishing were looking for cost-effective strategies to attract fresh talent. They decided to hire Recruitment Revolution after being referred to them by another publishing company.
Recruitment Revolution secured the best candidates for jobs Bloomsbury Publishing required in both UK and Middle East locations.
Here are just some of the positions Recruitment Revolution filled.
Head of Technology
Commissioning Editor
Production Manager
Production Controller
Business Systems Analyst
Website Editor
Business Development Manager
The hires were both a mix of permanent and temporary, depending on the specific role/position.
The results?
Bloomsbury reported saving thousands in their recruiting budget.
Here's a quote from Bloomsbury Publishing regarding hiring the recruiting services of RR.
"Recruitment Revolution are an effective, professional recruitment partner who attract high quality candidates – all for a very low cost. And yet they offer a personal, friendly, individual working relationship."
Final Thoughts
Recruitment agencies serve a vital function for many businesses today. The recruiting process can be arduous and drawn out. Hiring an agency can help save time, effort and lead to better quality hires. Although it will cost more than keeping recruitment in-house.
Whether a recruitment agency is right for your business will depend on various factors. You'll need to weigh the pros and the cons. If the fit is right, you can expect tremendous results.
FREE: Blog Post SEO Checklist